Did you know that page speed is the third-largest ranking factor for Google? Despite this, there are very many pages that have far too long a loading time. There is great potential for your website to climb higher in Google search if you optimize it properly. Fortunately, there are several tools to help you control how your site performs. In this post, we suggest 5 tools that give you better control of your page speed, or page loading speed as it is also called.
Bad page speed is a conversion killer.
According to Google, we give a page 3 seconds to load before we lose patience and leave. A good website should meet the users' needs, regardless of whether the device is mobile or computer. What many people miss is the importance of also optimizing their mobile site and having a responsive website. Google now follows the mobile-first index, which means that they choose a placement in the search results based on the mobile version. The reason is simply that the vast majority of searches currently take place from mobile phones and that Google wants to ensure that user-friendliness is top-notch.
It is important to regularly check the performance of all devices so as not to risk losing customers, visitors and subscribers. Here are 5 tools that will help you along the way and ensure that you maintain a good level.
Pagespeed Insights
Google's own web performance and load time tools. PageSpeed ​​Insights performs an analysis of several devices; both ratings for mobile and computer are displayed so that you can compare and see how the two differ. Your mobile and computer get a rating between 0-100 where 90+ is an optimal result while under 50 has great development opportunities. At the same time, PageSpeed ​​Insight provides valuable information about where the potential for improvement lies and tips on making the page faster.
Pros and cons:
+ Free to use.
+ Simple and clear.
+ Provides optimized assets (CSS, JS and images).
– Can not specify test location.
– Suggestions for improvements can be difficult for non-developers to understand.
Pingdom – Website Speed ​​Test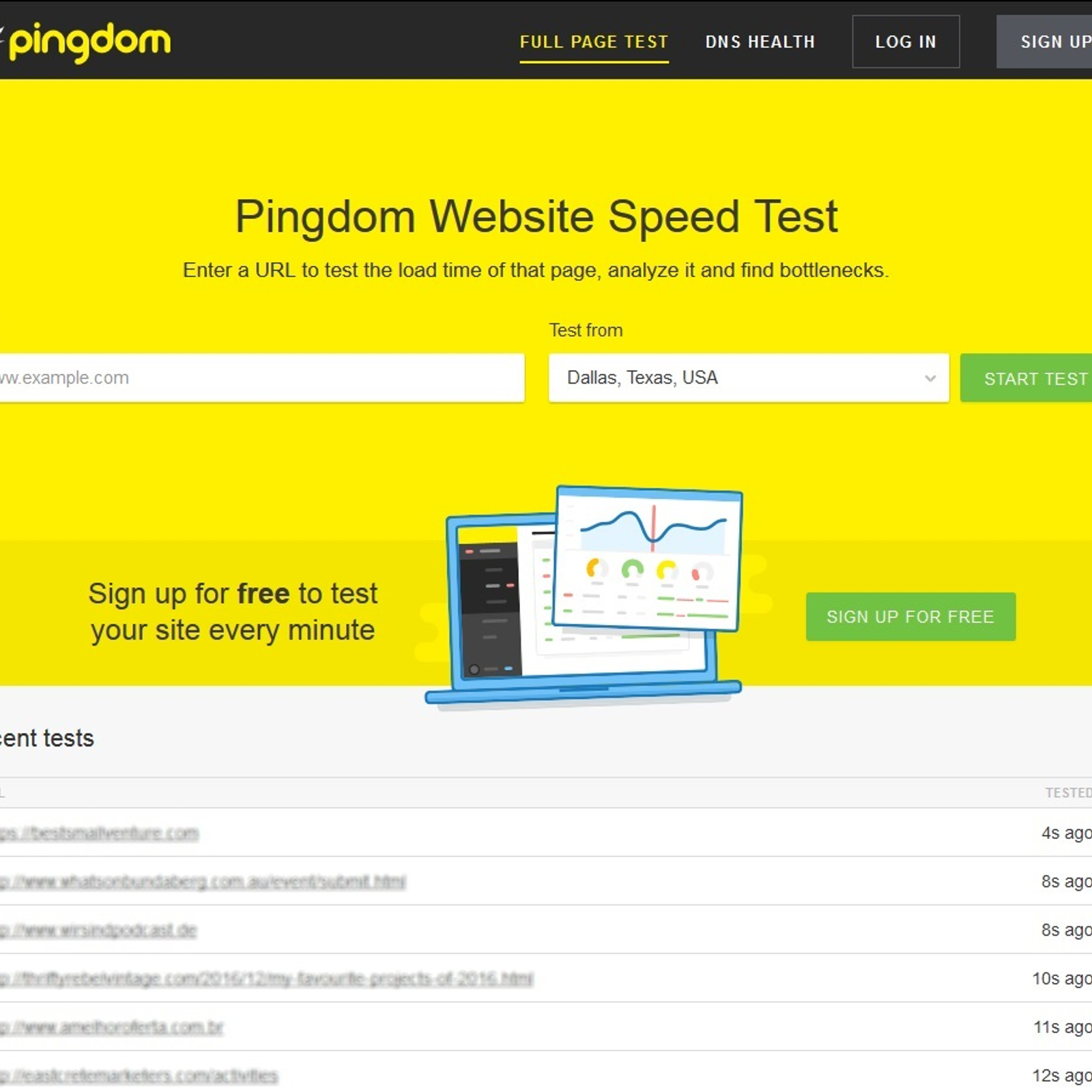 Pingdom was created by a company in Sweden and is very popular for testing their website's load time. The tool is free and delivers information about loading time, page size and a detailed waterfall diagram that shows how the content is loaded. Pingdom's analysis contains a lot of information that quickly helps you identify performance issues and shows what improvements you can make to get better results.
Pros and cons:
+ Available as a free version.
+ Clear diagrams of how the page is loaded and what takes up the most space.
+ Lots of information.
– The user interface can be better.
– Expensive to upgrade.
GTmetrix
GTmetrix generates a report with overall performance, page speed, and size and gives you the YSlow feature. YSlow shows how javascript is loaded and offers suggestions on improving it to reduce page load time. It gives concrete suggestions on improving your page significantly by optimizing javascript, which is often a big factor in the page loading slowly. GTmetrix has a nice and simple layout that gives you points between 0-100% and shows the number of seconds it takes for the page to load. The tool provides a simple initial analysis and provides the opportunity to go deeper into each result and recommendations for you who want to know more.
Pros and cons:
+ Free online tools.
+ Easy-to-understand analysis
+ Y-slow test that reviews javascript on the page.
+ Waterfall diagram showing page loading pattern.
– Need to create an account to access more information.
WebPage Test
WebPagetest does not win the prize for this year's most beautiful web design but provides valuable information if you have a reasonable understanding of the common concepts of page speed. One of the unique features of WebPage Testing is that you can select specific countries from which you want a report. This allows you to see how your site is performing worldwide, which can greatly benefit you who have a larger global user base. In addition, one of the analyzes shows a video on how the page is loaded so that you can gain a greater understanding of any problems. The tool is not the most user-friendly but is free and provides precious information.
Pros and cons:
+ Has the largest variation in site selection.
+ Large number of units to test.
+ Displays video on how to load the page.
– Not so user-friendly.
K6
K6, formerly called Load Impact, provides an easy-to-read and visual analysis of how your site is performing and, above all, how loaded it is. The tool provides the classic values ​​around page load speed, number of https requests and general warnings for your page. An advantage of K6 is that it is also possible to test the page's source code. However, a free registration is required to take the test, but if you want an account to follow how your site performs over time, it can be a good idea.
Pros and cons:
+ Modern and stylish tool.
+ Open source and super easy to use.
+ Offers GUI and code-based testing.
– You need a user profile.
Finally
The Internet is moving fast, and Google continues to emphasize the importance of having a user-friendly page that loads quickly. We can state that a slow page loses both customers and placements on Google. Therefore, it is important to check the page speed and performance of your website regularly. With these 5 tools you can take the step to a better website that delivers results.